From the moment he entered Maple Leaf Gardens as a welcomed surprise guest at a Nov. 12, 1995 game, to his first appearance as the official team mascot on October 10, 1995 at the Leafs' home-opener in Toronto against the New York Islanders. At the Air Canada Centre and beyond, Carlton the Bear has been an integral part of the Toronto Maple Leafs organization; both in spirit and action.
During pregame festivities for NHL games – home and away – you'll usually find Carlton participating with other mascots from other NHL teams like Sammy (Kings), Bernie (Flyers), Steely (Canadiens) or finessing his way through skits with edgy comedy routines; all staged right there on center ice.
Prior to each home opener at Air Centre, does Carlton lead the team onto the ice as he waves a Maple Leaf flag and skates around the rink? You bet, and always with an ear-to-ear smile.
To those who've seen him perform at the Air Canada Centre on game nights, you know that Carlton the Bear can move with dexterity throughout his home playing surface of 200 feet by 85 feet – zipping up the boards, gliding around corners, or speeding across end zones. Plus he looks sharp in his new navy blue uniform with silver trim – right down to his shiny black hockey skates! Only recently has he realized how cool it is to have players skate over them!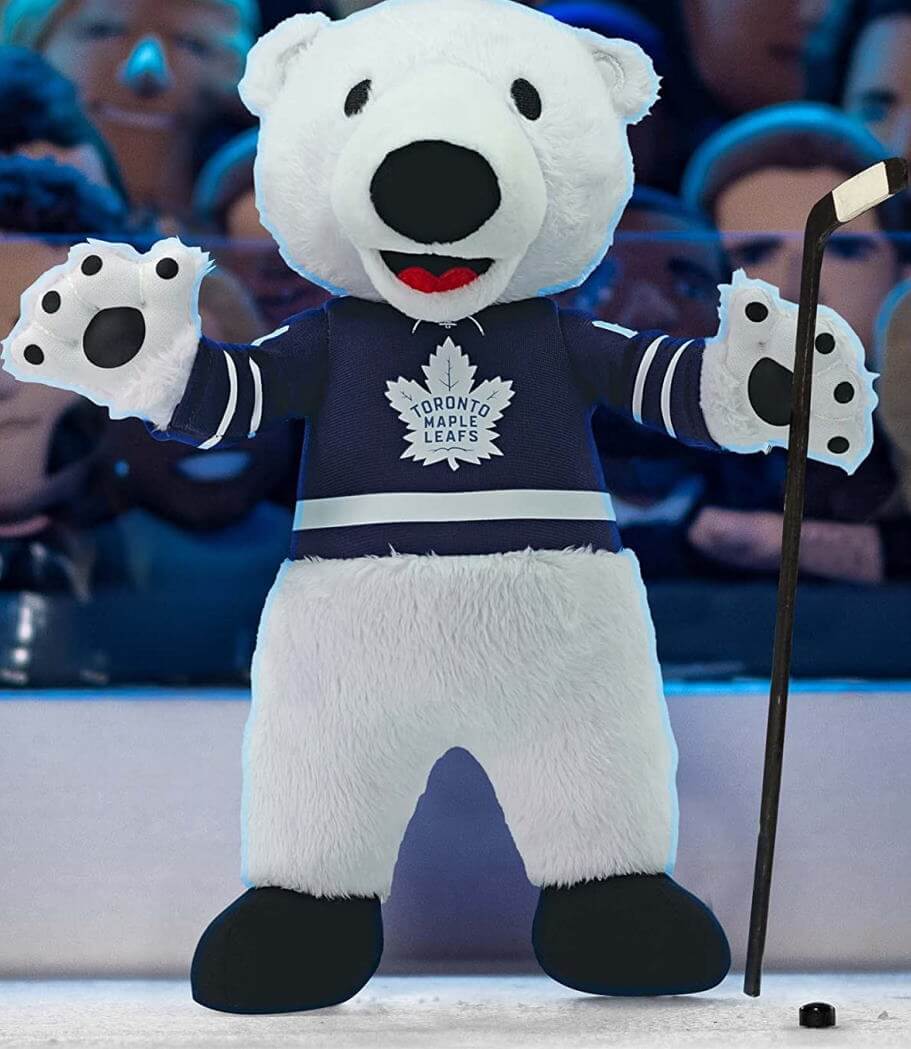 It's not out of place for fans attending Maple Leafs games to Carlton mingling with spectators during intermissions as he dons a variety of stylish headgear, especially those that match the team jersey colors. He's been known to pose for photographs and sign autographs as well, after first assessing if visitors are small enough to give him a hug – not too young or too old!
You'll often find Carlton singing along with familiar tunes played during stoppages in play at Air Canada Centre. During warm-ups before home games, he leads the Maple Leafs out onto center ice as they skate around him in a circle. It's not unusual to see fans capturing his every move on camera phones or tablet devices. In fact, there's even a short video clip of him on YouTube doing just that!
In addition to having fun, Carlton makes appearances at over 100 community-based events every year in the Greater Toronto Area.
Yes, that's right – he even attends birthday parties! You should see him perform his slam dunk routine when presented with a mini hockey net and a tiny puck. He'll turn it into an instant game, firing pucks at miniature goalie targets or trying to hit suspended light globes. The kids always think he's pretty cool when he does this stuff!
Why is Carlton the Bear so popular?
Well, for starters, there's his connection to the Maple Leafs brand which has endured since 1927; then there are his good looks and big personality along with public accessibility that allows fans to connect with him on social media platforms like Twitter @Carlton_bear.
We here at the Leafs think Carlton definitely adds an element of entertainment to NHL games you don't typically see at other sporting events, while also strengthening the emotional bond between fans and our team. As another season gets underway, let's hope for great success on the ice together with some exciting wins in the near future!
Why is Carlton The Bear number 60?
Carlton's name and number (#60) come from the location of Maple Leaf Gardens – 60 Carlton St. in Toronto, which was the Leafs home arena from 1931 to 1999.