Benny the Bull – NBA Chicago Bulls Mascot
The Chicago Bulls have one of the longest-lived sports mascots around. His name is Benny the Bull, and he's a lovely red bull (duh) that's been with us since we landed on the moon – yes, since 1969, making him the first NBA mascot ever.
Uh, let's get our records straight… um, it was actually his grand-father. Ugh, these bull family trees can be so confusing at times.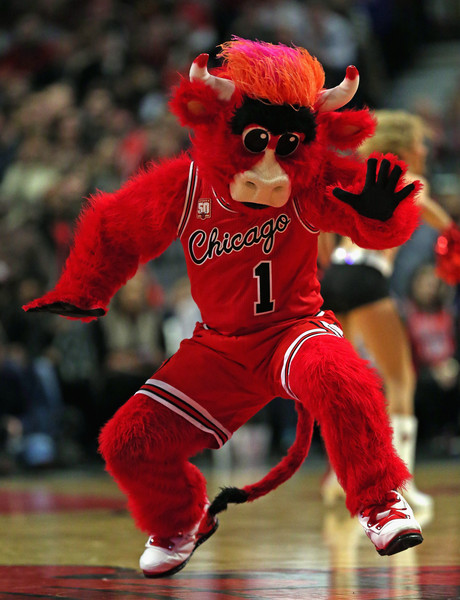 Ben took his current form in 2004, and he is one of the most popular mascots of all time. In fact, in 2013 Forbes selected him as the most popular sports mascot! Oh, and he has also been voted the Mascot of the Year in 2015.
He is very recognizable, sporting red fur and a cute white snout. His jersey number? Why even ask, it's #1. He's 6-6ft tall and is quite bulky, weighing 375 lbs. His favorite color? Come on, he's a bull. Red, of course.
Interestingly, the Benny of today has slimmed down quite a bit. He stopped munching on the grains and kept his weight town in order to show the kids the importance of healthy living and proper nutrition. Thanks to that, he can do quite amazing feats at the United Center.
Many other similar mascots have been introduced and performed on and off alongside Benny, and these were portrayed as Benny's family members. Ben has a big brother aptly named "Big Ben", who went to blimp college and is happy to fill in for Benny as he goes away to play some golf (Hey, he's classy). They often bicker but eventually make up, as brothers should always do.
In the 1994-95 season, Benny's cousin Da Bull made his first appearance, hence the jersey number 95. He was extremely athletic and is known for his legendary slam dunks. Unlike the other bulls, Da Bull doesn't have a tail, due to an accident he had at the United Center while he was practicing his dunks.
There's also Benji, who the Chicago Bulls adopted as their official pet in 2007. Nobody knows exactly who he is or why he came, but that's all part of the charm.
As many other mascots, Benny's athletic prowess is remarkable. He's known for doing crazy stunts, jumps, flips and dunks. And of course, his trademark popcorn spills, from GIANT popcorn bags, enough to feed a bull. (Video)
Benny likes to mess with people, especially the opposing players and the reporters. It's all in good taste, though. In old days, he performed at the old Chicago stadium and did things modern mascots never dreamed about, with only rule was not to bite people!

Besides rooting for his team and getting their spirits up, Benny does a lot of work outside the field, too. He's a proud member of the Bulls' All-Star Reading Team. This is an educational program where Benny visits various schools and clubs all around the Chicago area to teach kids about the importance of reading and education. (Along with getting them to root for the Bulls, but that's the easy part!)
He's quite a fashion purveyor, and besides his authentic uniform, you can often find him in tuxedos or suits… or other thematic costumes, such as a leprechaun for St. Paddy's Day or the Grim Reaper… don't ask us about that one 🙂
How much does Bulls mascot make?
Top mascots earn a six figure salary, and rumor has it that Benny, i.e. Barry Anderson, who retired as Benny the Bull in late 2016, earned a salary of about $200,000 per year. Mr. Anderson was the man behind the costume, which he happily wore for 12 years. But it appears it was time to move on.
It appears that Benny the Bull is here to stay and boost the morale of the Chicago Bulls for a long time to come. We can only wish him the best of luck!