Philie Phanatic – MLB Philadelphia Phillies Mascot
 Phillie Phanatic is the official mascot of Philadelphia Phillies. He's a strange green creature that somehow walks on two legs. His official biography claims he comes from the Galapagos Islands. This makes sense, as he really is a rare specimen to behold!
He's one of the most recognizable sports mascots around. He's one of the rare mascots that have appeared on film and TV shows, which is a testament to his being a pop culture icon. He was featured on The Simpsons, where he appeared in an episode "Gone Maggie Gone". He also appeared on the Late Show with David Letterman, and on the final credits of Stallone's Rocky Balboa.
He's 6 feet 6 inches tall and weighs 300 lbs, making him both extremely clumsy and lovable. He got his name from the nickname for Phillie fans.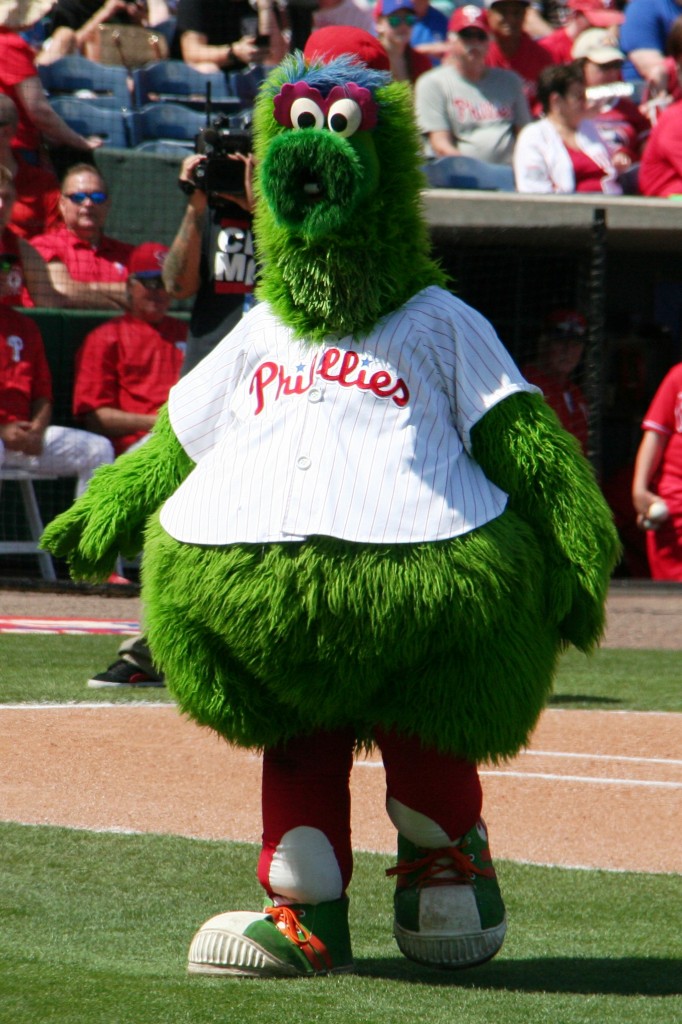 Tom Burgoyne, a 51-year old Philadelphian, is the man behind the Phanatic's mask. He's been a mascot since 1994, after replacing David Raymond, who portrayed Phillie Phanatic from 1978, when he was first introduced, till 1993. Phillie debuted in a game against the Chicago Cubs.
Phillie Phanatic was a replacement for two mascots, Philadelphia Phil and Philadelphia Phillis. They were siblings who were dressed 18-century clothes, a testament to Philadelphia's rich history and role in the American Revolution. The management felt that a new mascot could draw more visitors to the Veterans Stadium, Phillies' home ground at the time. These two mascots did reappear during the final game at the Veterans stadium in 2003.
During the games, Phanatic likes to ride on his All-terrain vehicle and meet and greet with the fans, along with mocking the opposing team. But it's all in good spirits. He has some routines that he almost always performs.
These include taunting the opposing team with provocative dancing, or stomping on the opposing team's insignia, shooting hot dogs using a pneumatic gun (!) and polishing the heads of nearby bald fans. As a result, the games are always a joy to go to:

Phanatic was an avid fan of Eric Gregg, a Philly native, and would always greet him enthusiastically. At times, his antics would go a bit over the top, and the opposing player retaliate by stealing his ATV key away from him. However, legitimate criticism has been raised at times against Phanatic's behavior, with several managers complaining of unsportsmanlike behavior. It doesn't surprise, therefore, that he's the most sued mascot.
He's so popular that in 2004, a man called Bernard Bechtel stole the head of the costume, after Burgoyne went on a break. He also has a very popular fan club. Also various children's book series have been published, mostly of educational type. He appears as part of the Phanatic About Reading program in various schools and educational institutions.
As for the salary of Tom Burgoyne, the Philadelphia Phillies mascot, he is one of the highest paid mascots in sports. Reportedly, he clocks $600 an hour for his appearances, although the exact salary hasn't been reported.
Philadelphia has been blessed with one of the most dedicated mascots in the world, win or lose. This nice competitive spirit is what sport is all about and what we should cultivate.