Lou Seal – MLB San Francisco Giants Mascot
A lovely maritime mascot decided to make San Francisco his home. That's not surprising, thanks to a high seal population in the area. He is Lou Seal – or more precisely, Luigi Francisco Seal, and he's currently rooting for the Giants. His 'sealdom' is a reference to the San Francisco Seals, who played in the Pacific Coast League until 1957.
Lou got his name in a contest held by the Giants – and Lou Seal won. Six fans submitted this name, and these lucky fans were invited to the luxury box to meet the mascot in person. He was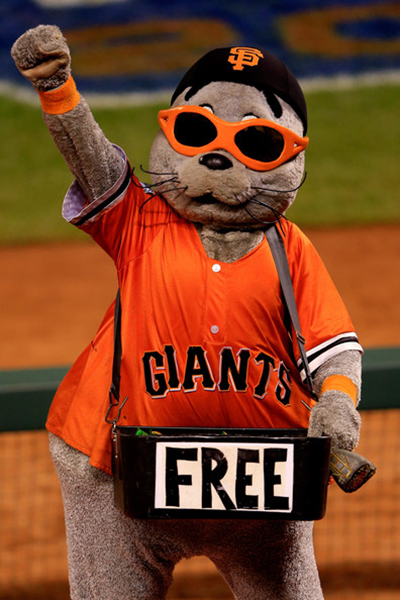 introduced on July 25, 1996.
Lou was introduced after the then-current mascot had to be killed off. The Giants had previously had an anti-mascot, the Crazy Crab. He was well-received, but due to safety concerns, the management decded it was time for a new, real mascot. Why safety concerns? Well, as an anti-mascot, fans were encouraged to boo whenever they saw the mascot, and the Crab also had dangerous objects thrown at him. Not a pleasant thing to see at a baseball game.
For more information, check out the history of the Anti-Mascot here.
Lout currently lives under the Lefty O'Doul Bridge in the China Basin, which is just a short swim from the AT&T Park. He is one of the many siblings (seal families are HUGE), but it's no wonder he is the favorite son. He bats and throws with his right flipper. Lou is very passionate. Once he injured himself by punching the wall after finding out the Giants didn't make it into the postseason.
Lou particularly enjoys making public appearances, especially when going to community and charity events. He's also been a part of many a birthday party – painting huge smiles on the kids' faces, we're sure! His apperances are quite costly, at over $500 per hour he's one of the more expensive mascots to hire, bested only by Mr. Met.
Being a mascot, isn't easy, though, and sometimes, they make mistakes. It happened to Lou as well, and is one of the most hilarious mishaps we've seen:

He is one of the most hard-working mascots in sports, with over 1150 consecutive home appearances. This record streak means that Joel Zimei has not missed a single home game in 16 seasons since he became a mascot.
This is a full-time job; besides about a hundred home games per season, he does over 250 public appearances a year. That's a lot of work. Sometimes he works for the whole week, without a day off. The costume is really hot, and during the game, he changes it twice. Zimei figured he loses about 8 pounds of weight during the game – he sweats all that water out!
The enthusiasts will be glad to know that Lou Seal – and Joel Zimei, the man behind the mask, have been featured in Season 2 of Hulu's show Behind the Mask, focusing on the lives of the mascots – and documenting their average work days. Check out the teaser trailer here.
We were impressed with the record made by Mr. Zimei and we hope he won't be bested any time soon. It takes a great deal of perseverance  to truly give it all to the team – and that's what being a mascot is all about.