D. Baxter the Bobcat – MLB Diamondbacks Mascot
The Arizona Diamondbacks are home to a very peculiar mascot, D. Baxter. He first appeared on June 23, 2000 at the home of the Arizona Diamondbacks, Chase Field. He's a tall cat with brownish fur, most of the time wearing a black shirt with the Diamondbacks' logo on it.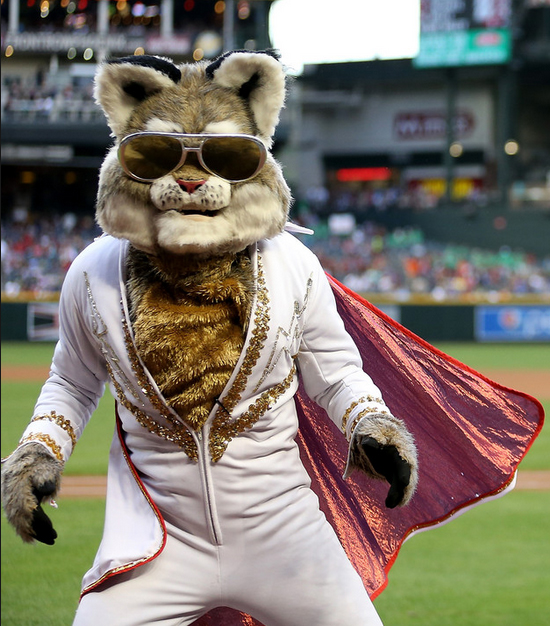 Now you might be wondering: what do bobcats have to do with Arizona Diamondbacks? Well, the idea for the mascot came from the son of the then second baseman Jay Bell. His son, Brantley Bell, insisted that his favorite team should have a "BOB" cat as its mascot. The logic behind that was that the Chase Field used to be called "Bank One Ballpark". However, bobcats are also native to Arizona, so it all fit together perfectly. His father then relayed the idea to management, who were delighted with the idea.
Baxter appears during every home game at the Chase Field and he is eager to entertain the fans with his stunts and crazy antics. In addition, you can visit him at his Den during the 4th inning of every D-backs home game. It is located on the Upper Concourse at Chase Field. There, you can catch an autograph form him and take a memorable photo with him! And when you're done, you can play some more and practice baseball at the batting cages near the den!
Along with his home game appearances, he does more than 300 other appearances a year. He often visits hospitals, schools and other big events all over Arizona. These days, even during the off-season, he's busy doing the Bobby & Baxter Show STEM Edition. He's doing it with help of Team Organist Bobby Freeman. The goal of these events is to stress the importance of STEM fields to children and teens in a fun manner. That's a tiring schedule, if you ask us! A performance almost every day requires a lot of dedication and stamina.
The person behind the mask opts to stay anonymous, but has reported on various occasions that he enjoys doing his job. And who wouldn't – win or lose, he's making people, especially kids, smile. That's truly priceless. Check to see for yourself the majestic things he's doing during the games!
His exacts salary is unknown. However, top mascots rarely earn less than $60 thousand a year.
The Diamondbacks mascot has been so kind so as to provide some of his favorites. He enjoys Fiish Tacos and pizza, and enjoys beginning his days with some catnip. He even went to Broadway to watch a play – Cats, of course!
Those practical among you will be glad to know that the costume is not too heavy, some eight to ten pounds. We can't vouch for its thermal properties though, but one'd have to imagine the fur keeps the poor guy very warm!
D. Baxter is a worthy ambassador for the Arizona Diamondbacks and he's one of the mascots we've come to hold dear to our heart (but shhh, don't tell that to anyone!). We can only wish him the best of luck in the future games.