Pirate Parrot – MLB Pittsburgh Pirates Mascot
You can't really find a more fitting mascot for a team of Pirates than a good ol' bird. The Pirate Parrot is green and wears a white or yellow Pirates jersey. At first, he wore more of the pirate-themed insignia and waved the Jolly Rogers quite often, but he was eventually redesigned after the incidents in 1985. He also gained a few more pounds and a goofier look to better appeal to children.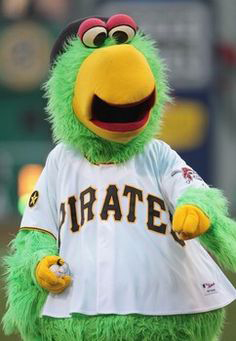 He was introduced a year later than Phillie the Phanatic, in 1979, due to a fierce rivalry between Pittsburgh Pirates and Philadelphia Phillies at that time. Phillie instantly got very popular and the Pirates wanted to hear none of it and came up with their own mascot.
He debuted on April 1, 1979 by "hatching" at Three Rivers Stadium, a then-home stadium of the Pirates, before they relocated to Forbes Field and eventually to PNC Park, the current Pirates' home ground.
During 1995, he was accompanied by a second mascot called Buccaneer, who was a pirate who led the crowd in cheering. He was quickly dropped after the man behind the mask, a 23 year old Tim Beggy got caught skinny dipping in the after-hours, which earned him considerable negative publicity and eventually led to the phasing out of the character.
But this incident pales in comparison to the more serious allegations that faced the mascot – or, rather, a man portraying it – for drug dealing. Kevin Koch, the original portrayer, was found to have performed high and even introduced some of the players to the drug. The scandal was a result of Pittsburgh drug trials and is one of the largest in MLB ever. Koch was fired but the mascot was kept, albeit redesigned, as described in the first paragraph.
The three mascots from the Pittsburgh area are known to have "attacked" each other, usually in a playful manner, such as in this parody ad:
To see the antics of the Parrot in the field, click here.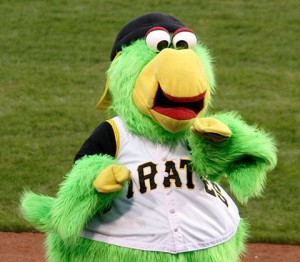 Nowadays, the Parrot Parot has become a staple of the whole region. He frequently appears at various events and functions, and sometimes even accompanies the team for their guest major league baseball matches if they're not too far away – like when playing against the Cleveland Indians and hobnobbing with their mascot, Slider.
One of his major goals is to be inducted into the Mascot Hall of Fame. Unfortunately, so far he hasn't been nominated. Maybe things will turn around sometime in the future, but until then, he should continue to bring joy to all the team fans!
The history of the Pirates' mascots has been fraught with scandals, unfortunately. However, the Parrot has still managed to stay with us, and that speaks volumes of its popularity among the fans. He has become one of the most loved characters in Pittsburgh and the surrounding area, and especially with the younger audience.