MLB Minnesota Twins Mascot – T.C. Bear
This over a century old team has been based in Minnesota since 1961, moving from Washington DC. Like the team, its mascot has a rich history connected to the local culture.
The name of the mascot – T.C. Bear – comes from 'Twin Cities', i.e. Minneapolis and St. Paul. The 'bear' part comes, well, from the fact that he's a bear.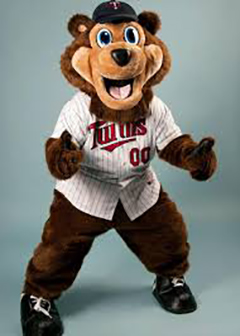 The official bio has him born in 1991 in Bear River, Minnesota, but he signed onto the team on April 3, 2000. His hometown is White Bear Lake, Minnesota. And for you non-Minnesotans, yes, that's a real place. He bats and throws left-handed.
The locals, however, will recognize his likeness with Hamm's Beer Bear, a mascot that was extensively featured in advertising campaign for the local Hamm's Brewery during the 1960's, which was crowned as one of the best advertising campaigns of all time. Apparently ursine motifs are very popular in Minnesota. No wonder though!
Anyhow, the brewery itself was among the first and the premier sponsors of the team, even paying for the games to appear on TV and radio broadcats, so the bear is a rightful homage to that.
Somewhat less know, the team had another mascot that didn't stick. His name was Twinkie the Loon, and he lasted for just two seasons – 1980 and 1981. A single look at the image and you'll soon understand why: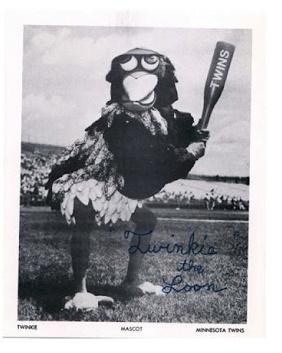 Yeah, he's not exactly the most handsome of the lot – likely the reason why the team was hesitant to introduce another mascot until 2000.
The bear, on the other hand, has been a success. He has a lovable, non-threatening appearance and an easy-going nature. Apparently, he's really big on holidays, watch video here.
… and he's got a real knack for baseball.
Check out the Bear catching a foul ball with his mouth:

He usually wears a white Twins jersey with a number 00. Sadly, the bear isn't featured in any of the team's historic nor current logos.
The real-world identity of TC Bear is a well-kept secret, as is the salary of the mascot. The mascot often makes appearances at clinics, schools and hospitals. He can also be invited to parties and other events for a fee. He also takes part in local programs aimed at promoting healthy living and reducing the carbon footprint in the community.
Although fairly young, the mascot is better-connected with the local community than most other mascots, drawing his likeness from real local events and historic milestones. The same could not be said of some other mascots who feel forced and 'tacked-on'. That's certainly not the case with good ol' TC bear.