Paws – MLB Detroit TIgers Mascot
Being one of the oldest teams (established in 1901) with plenty of games under their belt, it was with that experience when the Tigers decided to introduce a mascot in 1995.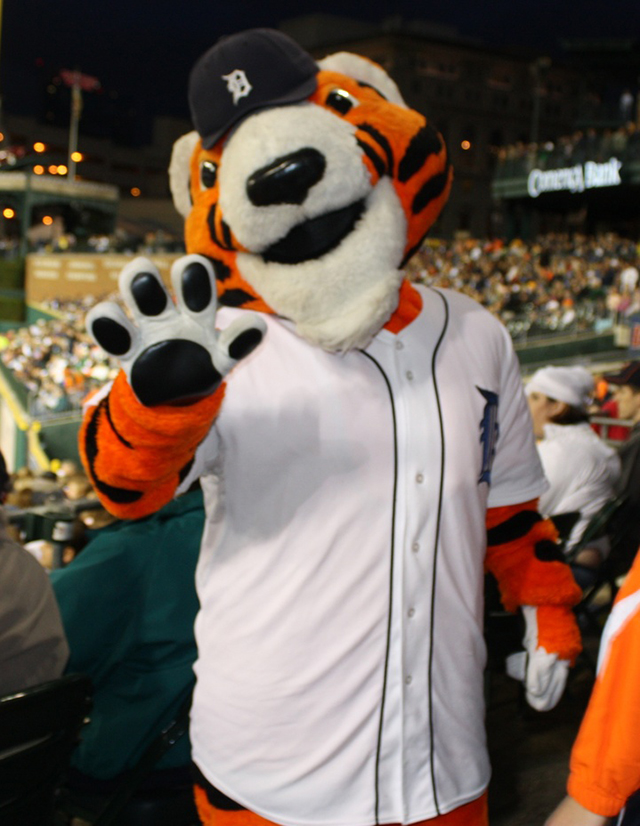 The mascot's name is Paws, and, as you might have guessed, he's an anthropomorphic tiger. The origin of the name of the team – Tigers – is unknown, but baseball has had a rich history in Detroit – since the 1960s. It is speculated that the players wore black and orange socks that resembled the look of tiger's fur. A stronger but more long-winded explanation dates back to the Civil War – the Detroit Light Guard was a group that was known as 'the Tigers' thanks to their fierce fighting and bravery. A
Paws was introduced on May 5, 1995 at Tiger Stadium (since then, the team moved to Comerica Park). His jersey numbers are almost always two-digit abbreviations for the current season, although in case of retired numbers (2, 5, 6, 11, 16, 23, 42) his jersey reads two zeroes.
A Horton resident Kyle Liechty is the newest performer to don the Paws' outfit. He assumed the role in 2010 to much excitement. After all, he had had previous experience performing as Buster Bronco, Western Michigan University's mascot.
The mascot costume is hot and demands constant activity. That's why it takes a toll on the performers' bodies, and even though it doesn't seem so, they need to be in great shape. The pay for being a Detroit Tigers mascot is about $50 per hour. We assume the same rate applies for outside guest appearances as well. That's pretty good coin to be made.
He appears often at all kinds of events in the wider Detroit area, most of them non-profit and charitable. He is active on Twitter Detroit TIgers Paws  as well and he can be reached via e-mail here (mailto:paws@detroittigers.com?subject=Hi Paws!) – he WILL answer!
Oh yeah, you can invite him to your events for a fairly modest price compared to other mascots – $135 per hour. Not bad. (Lovebirds hear us out: Marriage proposals start at $50!)
Paws has been involved in an infamous legal battle with the fan. The said fan got hit by a foul ball and cried foul (heh) claiming he didn't see the ball due to being distracted by Paws. He lost the case and had to pay the court fees. The nerve some people have, huh?!
Take a look at Paws in action:
Paws is big on vacations, and he always vacations in Lakeland, Florida. Probably to keep close to his team, who go there for spring training as well. Curiously, the official bio lists his hobbies as collecting baseball cards and playing fantasy baseball. Who would have thought?
Overall, Paws has been quite a success with the fans, especially the younger ones. Despite being a fearsome tiger, he looks friendly and eager to socialize with the audience. That's exactly what a mascot should do. Once a Tiger – Always a Tiger!