Orbit – MLB Houston Astros Mascot
A cute little alien named Orbit decided to make Houston his home and serve as a mascot of its baseball team, the Houston Astros.

Being from outer space, he is all green and wears an orange baseball cap. And of course, his two lateral antennae extend into two baseballs at the ends. He'd be a lousy baseball mascot if it weren't so!
His tenure as a mascot was a tumultuous one. He was first introduced (that is, arrived in a spaceship) in 1990. Team management wanted to bring the Tucson Toros mascot named Tuffy to serve as the Astros' mascot. It didn't happen, but the person behind Tuffy, Hal Katzman, eventually took over the Orbit's mask. He was a mascot till 1999. Orbit actually replaced another mascot, Chester Charge, who was a Texan soldier on a horse. But in 2000, he was replaced by Junction Jack, another Houston Astros mascot. This was done to mark the move from the Astrodome to the Enron Field (now called the Minute Maid Park).
However, in 2012, thanks to a petition and due to a move to the American League, the management felt it was time to bring Orbit back, to huge fan acclaim. And it makes sense when you know how orbit came to be.
Orbit got its name and likeness from fan input. More than 10 thousand children's drawings arrived at the Astros offices, and the Orbit we see today is derived from select drawings. Truly a mascot for the fans, by the fans!
Orbit is one of the most lovable mascots around. His interactions with the best MLB players are a proof:
His pranks are also fantastically fun to watch: https://www.instagram.com/p/BTDD6JdgSbL/
He is so passionate about his team winning that one time he got ejected from the game for arguing with the umpire!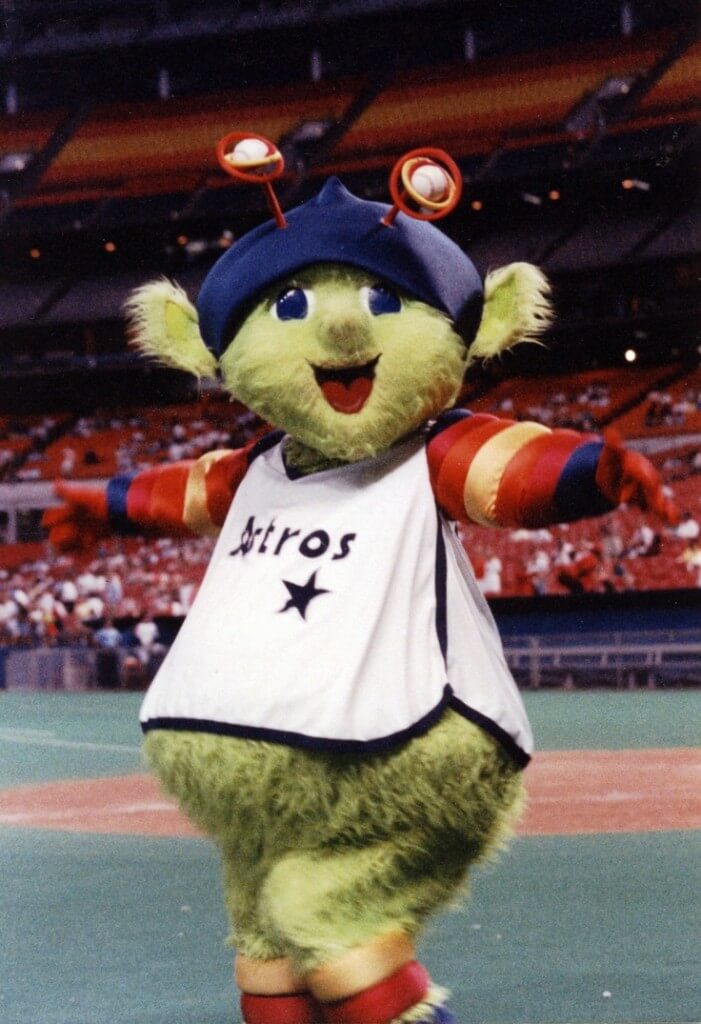 His antics were also broadcast live on television, including MTV, Fox Sports and ESPN. He has also received the Best Mascot Award in 2014 and 2015 by GameOps.com.
Aside from entertaining the crowd during home games at the Minute Maid Park, he makes appearances all over the Greater Houston area. This includes appearances in schools and at public ceremonies and events. The shows are focused on the importance of reading, proper nutrition and the dangers of bullying.
Orbit is an avid reader and a renowned space traveler. His favorite book is the Hitchhiker's Guide to the Galaxy and likes all space movies – including E.T. and Star Wars. Having dodged a few black holes and rogue ship commanders during his travels to Earth, he has developed an intense dislike for them.
Houston has been nothing but a loving home for Astros and he'll surely entertain the spectators for a long time to come.