Billy the Marlin – MLB Miami Marlins Mascot
Billy the Marin is the official mascot of the Miami Marlins baseball team. Even though he's a fish, he has apparently learned to breathe the warm summer Miami air through his gills, and grew two pairs of limbs to interact with the fans.
He is 8 feet tall and at 250lbs, barefinned, a huge fish. He made his first appearance on February 25, 1993, but he celebrates his birthdays in August. He is the son of William and Williamina Marlin, who accompany him on Father's and Mother's day.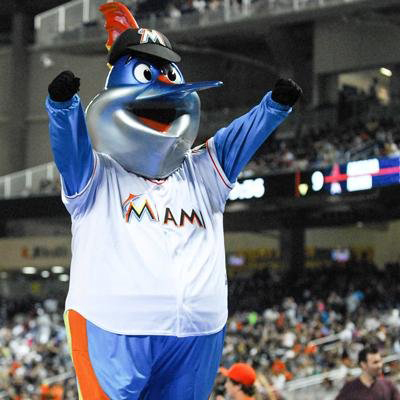 Billy got the job both because of his extraordinary skills and because of his lighthearted nature when interacting with the fans of all ages. Reportedly, Billy got his name from the original owner of the team, Wayne Huizenga, who wanted a name that was easy to remember, but still different from the other mascots.
He graduated from Atlantis University, and has been spotted eating his favorite food – tuna and sardine sandwich. What a predator! He can be clumsy at times, but it always turns out well. Billy is known for his optimism and pantomime that's bound to paint a smile on everyone's face!
John Routh used to be the man behind the mask, where he worked for 10 years. He was replaced in 2003. The salary of Billy the Marlin was $75 thousand then, but we don't think it has increased by much since then. Billy can be booked for various events, including birthdays, corporate picnics, parades and others.
In 2011, the Marlin got a new color scheme with rainbow fin, and he is also listed as part of coaching staff, thanks to his contribution to team morale. He isn't what we would consider as a good looking mascot, but he does some points for originality. His orange and sometimes white top and cyan loose pants aren't doing him a favor.
Click here to see some of Billy's highlights:

In 1997, on Opening Day, when the Marlins won their first World Series, a mishap occurred. The Navy Seal Lou Langlais was set to parachute onto the stadium, but lost the costume's head in the process, at 6000 feet, and had to land outside the stadium. The event was widely reported in the media as a slight embarrassment. The costume head was eventually recovered, and it was in good shape. Langlais stated that the jump shouldn't have been attempted, as the costume was too large and unruly for such a jump. Unfortunately, he died in combat in 2011.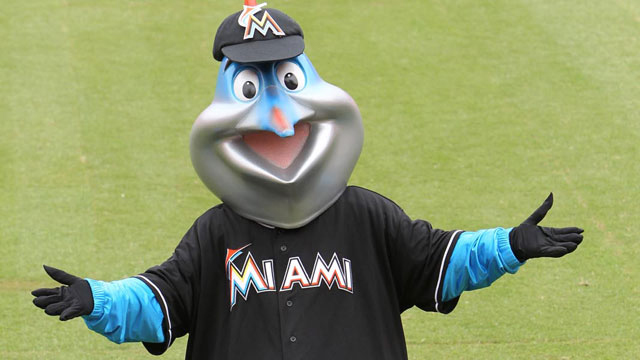 Billy makes about 500 yearly appearances, not including games. Revenue is shared between the performer and the Marlin Foundation, a charitable organization that aims to give back to the community.
Billy the Marlin has also been featured on a Topps Opening Day Baseball card, as #198. He is tech-savvy, and you can find him on Twitter as well: https://twitter.com/BillytheMarlin
Maybe we weren't as impressed with Billy as with some other mascots, but he's doing a good job hooking all those spectators to come to the game. Nothing fishy there!