Tessie & Wally – MLB Boston Red Sox Mascots
The fantastic duo consisting of Wally and his sister Tessie the Green Monster are responsible for cheering for the team and entertaining the crowd at the Fenway Park.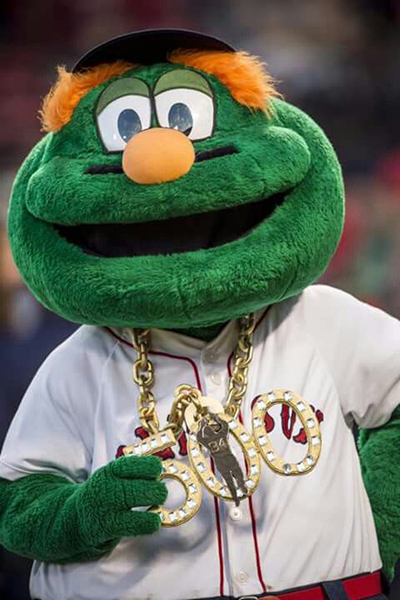 The mascots got their names after the famous left wall at Fenway Park, which is mighty tall at 37'2". It was built in 1912, along with the rest of the stadium, but wasn't painted green until 1947.
The official legend states that he was a huge fan who decided to move inside the green wall at the Fenway Park (the year when it was painted green), as the wall helped prevent other teams from scoring home runs. He came out half a century later, after living like a recluse for 50 years.
Wally the Green Monster debuted on April 13, 1997 – the Opening Day. Tessie is the newest addition to the world of mascots, debuting in 2016. At first, some of the more conservative fans were against Wally, claiming they didn't need a mascot and that they were too gimmicky. However, over time – in the next five years – he gained in popularity, especially among children. This is mostly due to the efforts of a local broadcaster Jerry Remy, thanks to whom Wally eventually got a cameo in Days of Our Lives".
The mascot is what is says on the tin – Wally really is green, and he does look like a monster – albeit a friendly and benevolent one. His mother, Momma the Monster, also sometimes appears alongside him – mostly on Mother's Day – and accompanies him in his mischief.
Apparently he is so popular that in 2012, his costume was stolen. Luckily, it was recovered shortly after. Turns out, the culprit was a Red Sox employee who wanted to parade around throughout Boston.
One of the guys who donned the Wally's costume was Chris Bergstrom. He enjoyed working as a mascot and his best experience was the World Series. The fans were so intense that he couldn't even remember some of the games from the rush he got! He also said that he never messed with the umpires; they're literally the cops when on the field and demand respect.
As for the salary of Wally the Green Monster, it's not publicly available. However, due to its popularity, we figure the salary range is from $50K to $70K. But the job is very demanding. The mascot does more than 300 appearances yearly, plus games – that's more than 80 work hours a week!
Before the game, Wally is always there interacting with his fans, taking pictures and goofing out with them, especially the children. He also does dugout visits and sings "Take Me Out To the Ball Game" in the seventh inning.
There's a history of feuds among Wally and Raymond, the Tampa Bay Rays' mascot. They often prank each other, with Raymond's pranks bordering on dangerous.