Bernie Brewers – MLB Milwaukee Brewers Mascot
The Kings of beer from Milwaukee – the Brewers – may be one of the newer teams, but the history of their mascot is rich nonetheless.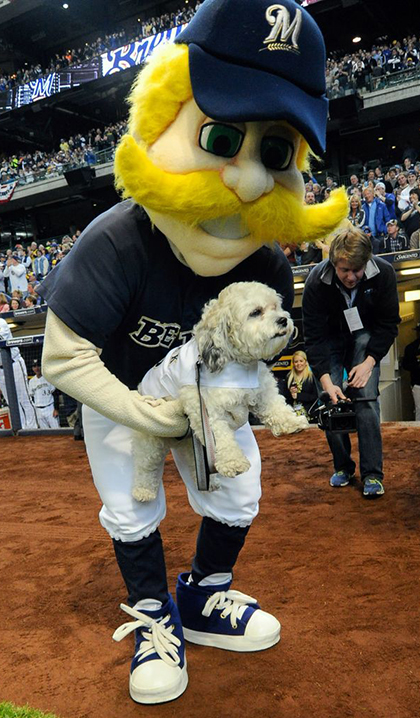 The team is the product of an expansion, when the Seattle Pilots moved to relocated to Milwaukee after a single season in 1970. The fans were excited to greet them, as the previous team, the Braves, had moved to Atlanta in 1964. However, the change was so abrupt that the team didn't even have proper jerseys.
Consequently, there was little time to think of a 'proper', professional mascot, and marketing suffered. The attendance was also quite dismal as a result of the city not having a proper team for half a decade.
In June 1970, a 69 year old rabid fan, Mitt Mason (an engineer by trade) vowed to sit atop the scoreboard in a trailer until attendance hit 40 thousand. This was done with support from the management, who were happy to see such a publicity stunt take place.
He lived in this trailer near the scoreboard – in relative luxury – but it took him an unnerving 40 days till the number was reached. Of course, he wasn't idle during that time. Whenever there was a game, he'd root hard. On 16 August, his perseverance paid off. The Brewers beat the Indians before the crowd of 44 thousand spectators. It was 'Bat Day' – a baseball bat was given to everyone in attendance.
Nevertheless, Mitt decided to celebrate by swinging down from a high rope as the crowd cheered him on. Rope burns notwithstanding, he was ecstatic. This was the high point of the season – likely due to the giveaway. He'd have to spend quite a while in the trailer otherwise!
He passed away in 1973 after moving from Milwaukee, but the memory of this antics was still very much vivid. The team came up with a mascot – Bernie Brewer – bearing his likeness. He is a happy-looking man sporting a generous blond mustache. It is rumored that the then-owner, Bud Selig, was against the introduction of the mascot, but the management did it anyway.
Still, there are a few differences. Bernie lived in a chalet instead of a trailer in the center field. Dan McCarthy was the first Bernie mascot. Bernie's popularity was so great that the team added a female sidekick, Bonnie Brewer (with Donna Bozmoski inside the costume). Bonnie was a cute blonde wearing blue shorts. She would sweep the bases with a broom and often use it to swat the guest team's third base coach on the backside… but she'd give him a kiss on the cheek, too. Their tryst lasted for amazing 6 years, and she finally retired in 1979. She appeared once more in 2000.
Against common sense, the team opted to remove his chalet in 1985 and built a sound tower in its place. The mascot didn't return until 1993 when the fans voted to reinstate him. The management wised up and put him back – and he's been the mainstay of the Brewers home games ever since.
Bernie also appears at various events all around the Milwaukee area, and he can be requested for private events as well.
And here's some of Bernie:
Currently at Miller Park, he has his own dugout behind left field where he performs every home game. In this modern era, he slides down a yellow slide whenever Brewers hit a home run. There have been petitions to rebuild his beer-barreled chalet, but nothing has been done so far.
His chalets currently sit at Lakefront Brewery in the city. Yes, chalets, in plural. There were two chalets – one was sold to Bill La Macchia Jr (a former batter). He bought it for sentimental reasons. The brewery owner bought the other one, but both now reside at the brewery premises, since Bill asked for his chalet to be kept there as well. Fans can take a picture of themselves and the chalet.
Today, Bernie is a symbol of the team's rich history, and he'll certainly keep entertaining the fans, young and old, for decades to come. If you ever needed proof that one person can to a lot, look no further. As a result of Mitt Mason's, well, stubbornness, the Brewers have a phenomenal mascot that the whole team can be proud of. What more can a fan wish for than to help his own team?